Two former Ron Dearing UTC students are thriving as they begin their careers with the world's fastest-growing and most innovative digital brand management business.
Sonoco Trident's headquarters is at Kingswood in Hull, but the company also has teams based in Europe, America, Asia and Australia.
Michal Ignatowicz and William Blake, both 19, have joined the team as artworker apprentices and will complete a Level 3 Diploma in Creative Digital Marketing and Design through Hull College over the next 18 months.
With many of Sonoco Trident's global workforce working from home due to the Covid-19 pandemic, William and Michal initially started their new roles in the same way. However, they have spent the past two months based in the Hull office to gain first-hand experience as they build on their knowledge and skills.
Their roles primarily involve ensuring content sent by customers is correct, follows legal and sizing rules, is brand consistent, and that artwork is print-ready.
Michal, from east Hull, who achieved a double Distinction* in Creative Digital and a Merit in Computer Science at Ron Dearing UTC, said: "I've always wanted to do something involving graphic design and it was definitely the right decision to go to Ron Dearing UTC because it has given me the opportunity to work here.
"It's a huge, global company and I'm really enjoying it so far. It's fun and interesting, and I'm looking forward to seeing what the future brings."
William, from Beverley, who achieved a double Distinction* in Creative Digital and a Distinction in Art and Design at Ron Dearing UTC, said: "The employer-led projects we completed at Ron Dearing UTC helped me to get to this point because they encourage you to think in the right way for work.
"I've always loved creating and design, and this apprenticeship is helping to boost my knowledge.
"It could also give me chance to travel and get involved in volunteer schemes through the company in the future, so there are lots of opportunities."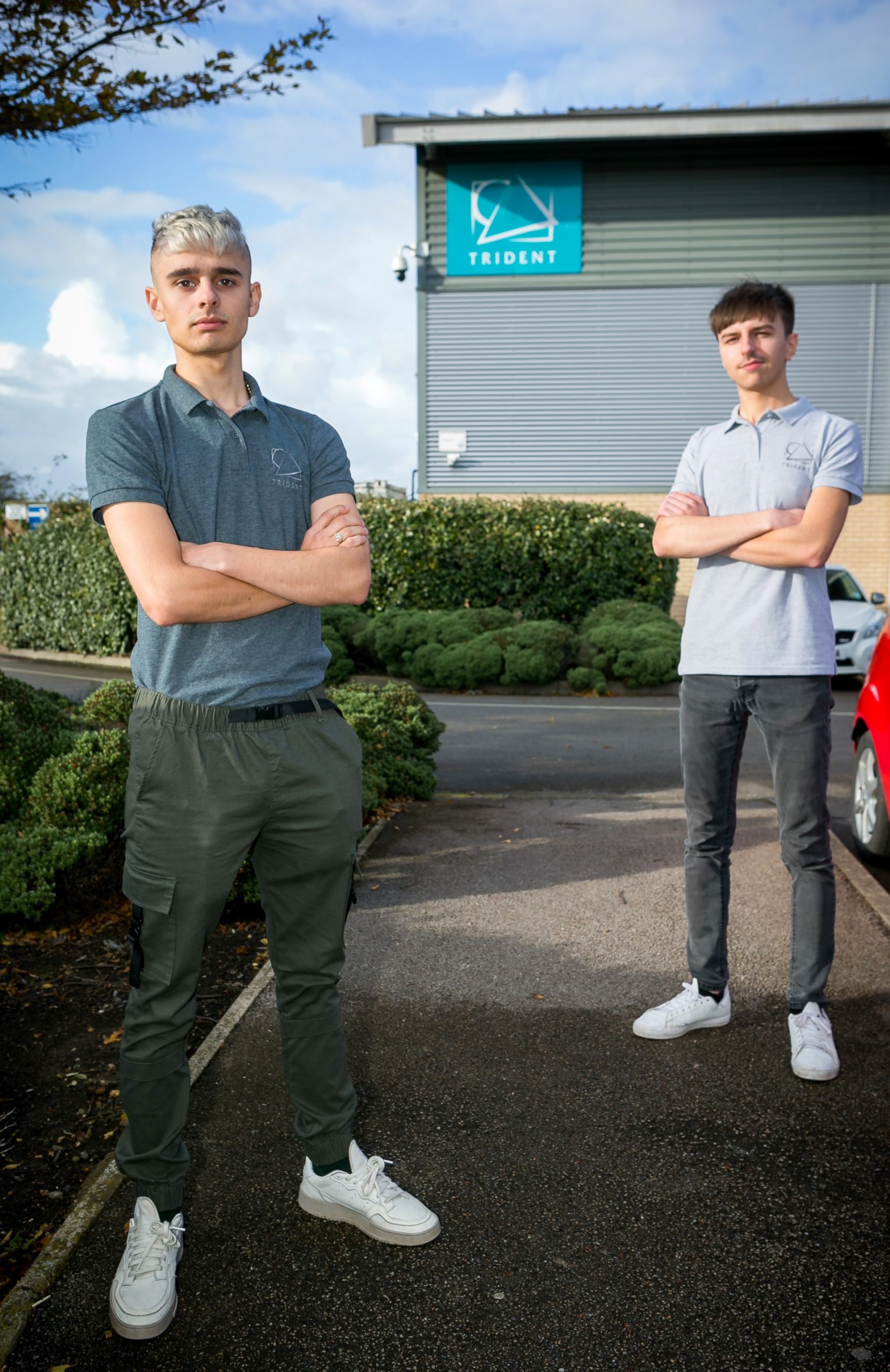 Michal and William are two of five apprentices employed by Sonoco Trident in the company's latest cohort, which also includes two other apprentice artworkers and one apprentice customer service representative. They spend one day per week at Hull College while also completing additional course units online.
They are following in the footsteps of former Ron Dearing UTC student Cameron Davies, 19, who was the first student from the employer-led school to be taken on by Sonoco Trident as an apprentice last year.
Sonoco Trident is a Major Partner of Ron Dearing UTC and works with eight out of 11 of the largest consumer goods companies in the world, including Gillette and Soltan. In all, more than 2,000 of the world's leading brands trust the business with their brand integrity.
The company launched its Trident Academy earlier this year, which encourages employees who are beginning their careers with the business to focus on teamwork, personal brand and core values.
Harry Gawthorpe, Operations Manager at Sonoco Trident, is managing and training Michal and William and said they've made a fantastic first impression.
He said: "It's very beneficial to bring new people in. Our industry requires a very specific and bespoke skill set and we want to pass those skills on to the younger generation.
"Michal and William have come in with a great, positive attitude, they're eager to learn and they take advice really well.
"There is a level of complexity to what we do that is difficult to carry out while working remotely, so we wanted to get them into the office and they've made great progress already. They've really had to roll their sleeves up and get involved.
"The way they learn at Ron Dearing UTC has helped them to adapt within the business and the way we're currently working. They're very flexible, resilient and confident about working with other teams, which is important and great to see."