The phased return of students and staff at Ron Dearing UTC has been hailed a major success.
Year 10 and Year 12 students were welcomed back on June 15 with stringent safety measures in place.
Principal Sarah Pashley said students and staff have adapted safely and positively to enable face-to-face learning, with social distancing, face coverings, temperature checks and hand sanitising procedures in place.
She said: "The first two weeks of the phased return to school have gone phenomenally well. We haven't had any hitches at all – everyone is adhering to social distancing and wearing face coverings when they should.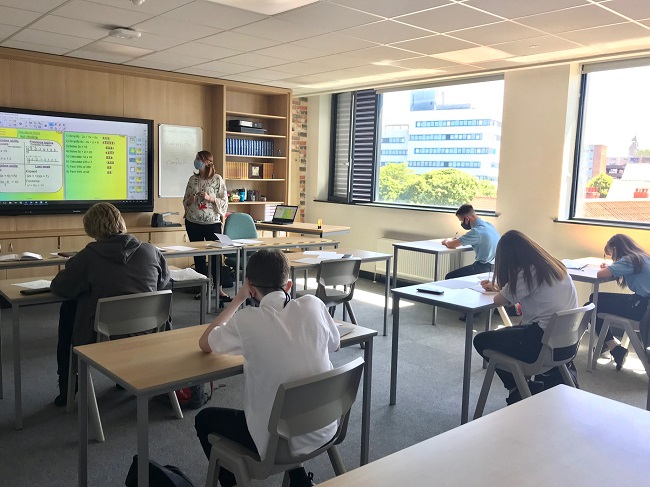 "The staff are very happy to be back teaching students in person once again and we haven't had to issue a single cross word or written warning to any students. They have been absolutely brilliant.  It's been great seeing them again.
"We're really grateful to our parents/carers who have, yet again, trusted us to look after their sons and daughters, despite worries about the Covid-19 situation.
"We were all slightly apprehensive about coming back and about how it would work, but our Phased Re-opening Plan was meticulously planned and we covered all the bases, so everything has gone incredibly smoothly. It's amazing how quickly you adapt to the 2m social distancing rule and wearing face coverings.
"We're looking forward to being able to increase the numbers, as the signals are pointing towards us having many more students back in school from September. This has been a good trial run for our 'new normal'.
Ron Dearing UTC consulted with the Department for Education, teacher trade unions, staff, the school's Parent Teacher Association and its Governing Board before welcoming students back.
The school followed comprehensive government guidelines and additional measures insisted upon by the school's Governing Board, passing its Covid-19 health and safety inspection with flying colours in advance of re-opening.
The Ron Dearing UTC team is now planning to welcome new Year 10 and Year 12 students who are due to join the school in September this year to Experience Events next month. New Year 12 students will attend on July 10 and new Year 10 students will attend on either July 13 or 14, with students split between the days to ensure 2m social distancing.
Sarah said: "This is another positive step forward as we can run our planned transition taster days, albeit a month later than originally intended.
"The new students will have tasters of their chosen specialist subjects, including engineering, creative and digital technology qualifications."
Year 10 student Jacob Ilyas, 15, is delighted to be back at school. He said: "Learning is different at the moment because of smaller classes, but I'm happy and I feel safe."
Fellow Year 10 student Kianne Hall, 15, added: "Learning at home was difficult and I prefer being in a school environment. I feel so much better to be back."
To read more about the Phased Re-Opening Plan click here.